Dolls Kill, the online fast-fashion e-retailer for alternative fashion, is selling a 'sexy' Bernie Sanders Halloween costume for $85. The Halloween costume is based on the highly-meme'd image from Inauguration Day earlier this year, where Bernie Sanders, setting himself apart from his highly ornamented political peers, dressed for practicality in a warm-looking coat and mittens.
Dana Rosenberg, director of marketing at Dolls Kill, said in an emailed statement to Vice that the company's design team came up with the idea for the costume after "the virality of the Bernie meme." Rosenberg said the costume is "trending like crazy." When asked about the $85 price tag, Rosenberg responded, "Well, it may not seem it, but the costume is legit—it's made of fleece, has super cozy mittens, and comes with a face mask. Wear it for Halloween or as your next winter fit!"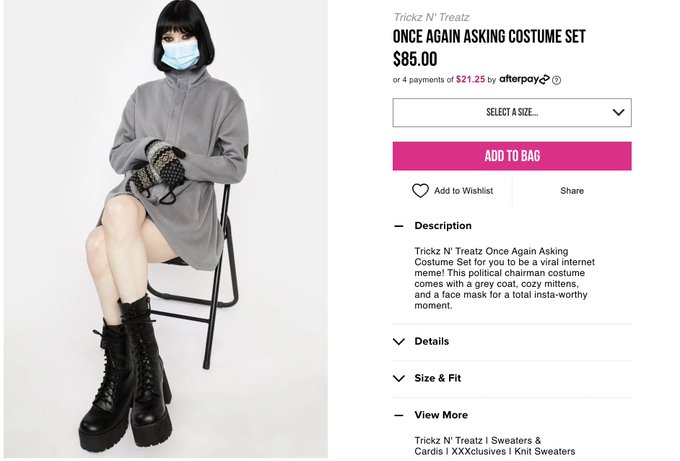 The new Halloween costume is from Dolls Kill's 'Trickz N' Treatz' collection and has been dubbed the 'Once Again Asking' set. It includes a Polyester-blend grey coat, mittens, and a face mask. The site touts that buying this get-up will turn you into a 'viral internet meme'. They boldly claim that this 'political chairman' costume's 'grey coat, cozy mittens, and face mask' is a 'total insta-worthy moment'. As expected, the costume is generating buzz on the internet — for better or for worse. People are either confused or obsessed with the costume.
The e-retailer is pulling a move that Sanders himself would disapprove of. It seems bizarre to promote a one-time-use outfit costing $85 based on the man who wanted to raise the minimum wage. In fact, a representative of Sanders said in a statement to Vice:
"If fans of Sen. Sanders' mittens are looking for a real scare this Halloween, they should see how hard the wealthy and world's biggest corporations are fighting to stop Congress from finally addressing the long-neglected needs of the working class…I'm shuddering at my desk just thinking about it."
Dolls Kill isn't just pricey, it's not exactly ethical either
Aside from being a fast-fashion retailer and arguably over-priced, Dolls Kill has come under fire in the past for other reasons. Despite its notability as a successful e-retailer, the company has been accused many times of stealing artwork for its clothing designs. More importantly, last year people took to social media demanding that the company should be boycotted. This occurred in response to its owner, Shoddy Lynn, posting on Instagram that she was in solidarity with the police that were attacking and detaining Black Lives Matter protestors around Los Angeles
If you really want to go for this costume, without contributing to fast-fashion or spending a crazy amount, you can probably DIY it with items already in your wardrobe! If you are missing the iconic mittens, the teacher who made Bernie's pair has her own store selling her sustainably made mittens. Make sure to bring a folding chair to your Halloween parties and sit down (with your arms crossed) all night to complete the look!