The 'clean girl' look is out. Succubus chic has taken over our feeds as the latest 'it girl' trend. Its bleach brow, edgy style, topped with a Kubrick stare, has infiltrated our feeds and taken over runways. Some have praised this edgier look as it promotes the 'uglification' of the modern woman, but how inclusive is this new and exclusive trend?
The trend headliners are models Gabbriette, Amelia Gray, Arca, Julia Fox, and, most recently, Kylie Jenner. Thin bleach brows, razor-sharp cheekbones, darker experimental makeup, and jet-black hair are crucial elements for this 'succubus chic' look.
The trend is said to have originated with Angelina Jolie in the 90s. Her look at that time reflects this trend – with the cheekbones, the hair, and the gothic style.
Checking out of femininity?
People have taken to Twitter to express their love for this trend as it allows women to assert themselves unconventionally. Succubus chic, 'goblin mode,' and 'ghoul girl' all subvert the male gaze. Women start breaking that ideal by dressing for themselves and experimenting with their style.
Buccal Fat Removal
The cosmetic procedure of buccal fat removal is linked with succubus chic. Also, the trend involves removing buccal fat tissue from either side of the face underneath the cheekbones to get ultra definition.
This procedure recently slipped into the mainstream trend, with many celebrities donning this look. Actors Lea Michelle and Anna Taylor-Joy are among the many stars alleged to have undergone this surgery.
The removal of fat to achieve this look has sparked outrage. Although you can use heavy contouring with makeup, the fact that, once again, a cosmetic procedure has become a trend highlights that we are not progressing. People have taken to Twitter to point out that the process will hinder those from aging naturally – as we lose collagen, particularly in the face.
Buccal fat removal 🤝🏾 ageing someone instantly by 15 years

— 𝕱𝖎𝖆𝖘𝖈𝖆.* 𝚆𝙽𝙲 (@uncletypewriter) July 16, 2022
Old Trends Repackaged?
With the revival of Y2K and heroin chic, 'thin' is returning to the fold of body image standards and mainstream fashion. The curves are out. Thin is back in. Succubus chic plays well into this ideal, seemingly a goth version of its grunge sister, heroin chic.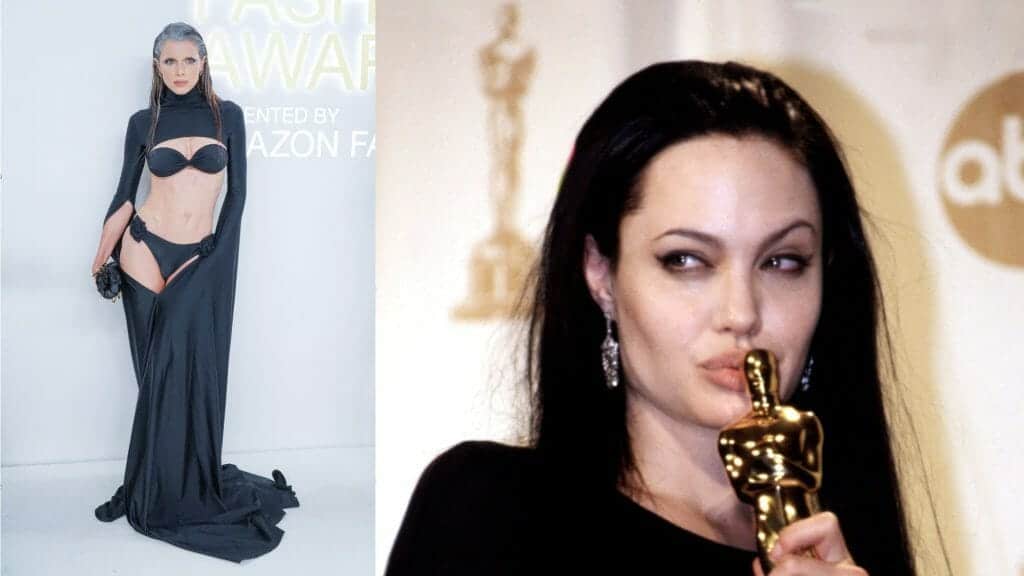 The damaging effects of Y2K of the 2000s and heroin chic of the 90s have placed scars on many who experienced the height of fatphobia during that era. Additionally, for millennials who lived through this era, it brings back many bad vibes—particularly rehashing body image issues that were prevalent in that era.
Dazed Beauty referred to succubus chic as 'Wednesday Addams if she grew up, got a job in Milan, and picked up a coke habit.' The glamorization of drugs and this body ideal is damaging and potentially harmful. We are now almost seeing trend cycles repeat themselves in fashion. Is it time for something fresh and new?
TikTok user @YvesSaintLaurel discussing how harmful the Dazed Beauty article on Succubus Chic was.
Lack of Inclusivity?
YouTuber Madisyn Brown, in her video the "uglification" of the modern woman (the male gaze is out) expressed that celebrities conforming to this new trend match society's beauty ideal by being thin and light-skinned. She highlights that this advantage allows them to experiment with their look even more because they have westernized beauty ideals.
The idea of this pale, gothic, sultry glamour could be seen as problematic as it is not race-inclusive. Diversity in everything – especially fashion is imperative. To see such a trend perhaps not offer the same inclusivity for people of color is not the right step in the direction we must strive for.