Are you looking for the perfect watch for you? Whether you're wanting something minimalist or something a bit more out there, here is a collection of ladies' watches that you might take inspiration from.
Designer watches can be expensive, especially for students or young people with a limited budget. But here are some best picks that are more affordable, priced under £60, that still allow you to accessorize your outfits with style.
---
Compare Watch Color With Skin Tone
To choose the watch best suited to you, it can be good to first identify which metal colors will compliment your skin the most.
If you have a cool skin tone, you may want to choose white gold or silver watches, whereas if you have a warm skin tone, rose gold and yellow gold can be most flattering. There has been a more recent trend of wearing two-tone watches, which tend to suit all skin tones.
(But there are no rules – go for the watch you like, in the color you like best!)
---
1. Sekonda Monica Two-Tone Bracelet Watch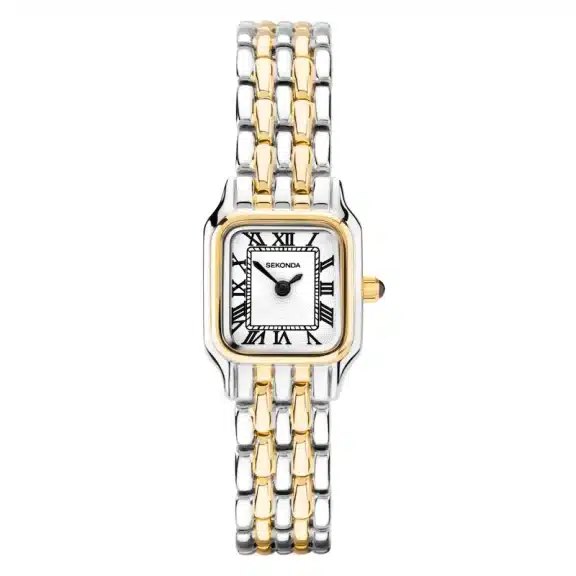 As seen on TikTok, the Sekonda Monica Bracelet Watch is a minimalistic yet timeless piece. It has been named a dupe for Cartier's Panthère watch, which is priced at a staggering £6,900. Not only is it a fraction of the price, but the Monica watch looks just as fabulous.
This watch comes in several metal colors including silver, gold, rose gold, and two-tone colors, and features Roman numerals on the watch face.
It is also available in a few leather strap options instead of the bracelet watch style, which offers a more casual and comfortable look.
Priced at £54.99, this two-tone watch (shown in image) is versatile to wear with any outfit, and can be paired with jewelry of either silver or gold.
2. Sekonda Catherine Midnight Star Stainless Steel Watch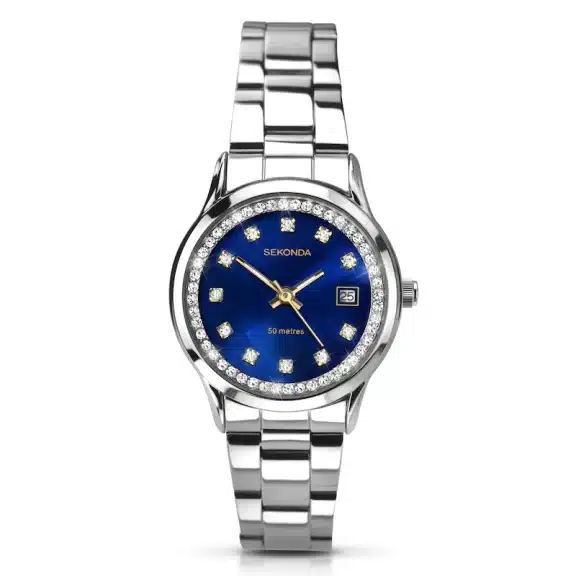 This sophisticated and classy watch is perfect to be worn at work in the office. It can be dressed up and perfectly paired with a suit, or matched with a dress and heels.
The blue watch face gives it a trendy edge, making it unique and different to other styles of watches. The sleek stainless steel silver strap means you can pair this watch with other silver jewelry, such as a necklace or ring stack.
Although the blue face may not match or compliment every outfit, it sure does make a bold statement!
According to color psychology, navy blue symbolizes both authority and elegance, which makes this watch ideal for the workplace and meetings.
Priced at £54.99, it would make a great addition to your watch collection, especially if you have a cool skin tone, which is most complimented by silver.
3. Rotary Di Watch Set Ld00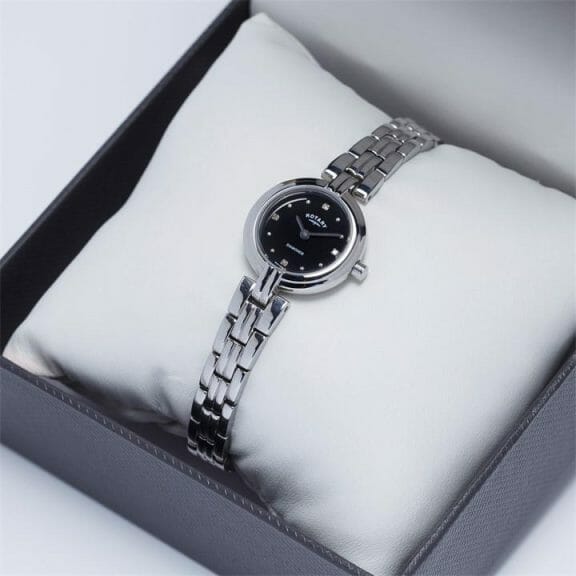 This small watch is simple but modern, and perfect for an everyday watch. Not only is it minimalistic, it is practical to be worn to any event or occasion, whether it be work, family gatherings or even weddings.
This watch can also be the perfect present for someone who needs an everyday, simple and clean looking watch. Again, due to the silver bracelet strap, it would compliment cooler skin tones best.
It is priced at £60, and can also be purchased in rose gold to suit warmer skin tones.
4. Sekonda 2392.27 Women's Cubic Zirconia Bracelet Strap Watch Gold/Mother of Pearl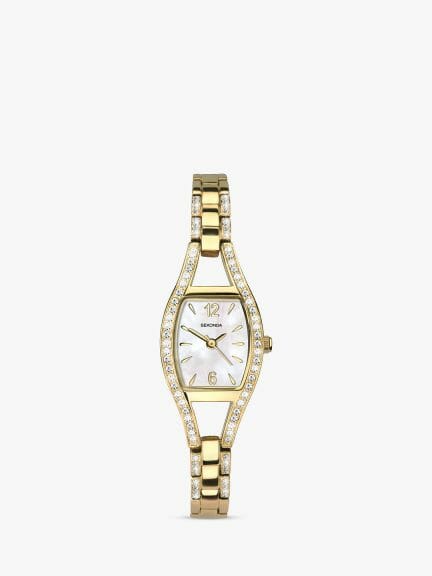 With a traditional polished finish and an oval shape, this watch is a fusion of classic and modern styles.
The yellow gold strap color would compliment warm skin tones beautifully, and this piece can bring your whole outfit together. With the recent trend of 'old money' looks seen on TikTok and Instagram, the subtle 'mother of pearl' watch face perfectly fits the 'old money' style, making it a great accessory for weddings and formal events.
Priced at £59.99, it can upgrade your style, elevate your outfits, and be stacked with other jewelry such as bracelets and bangles.
5. Sekonda Ladies' Two-Tone Crystal Rose Bracelet Watch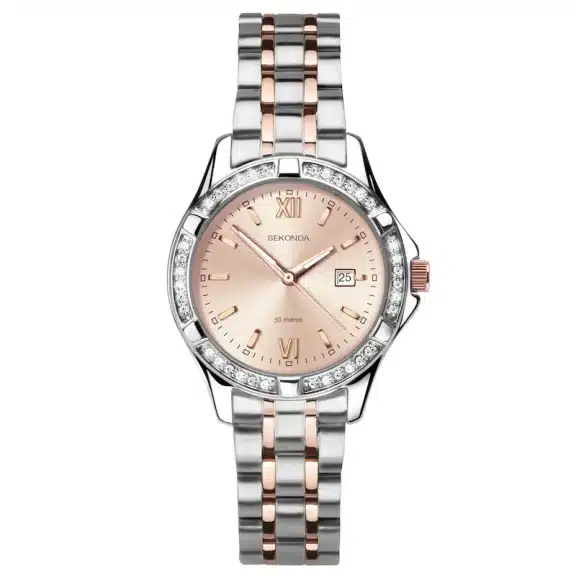 This two-tone rose gold and silver watch is priced at £49.99, and is more of a statement piece!
It features a 30mm diameter round watch face and crystal stones surround it. This style may appeal more to those wanting to make a statement of style and glamour.
Though the rose gold is subtle, it looks best on warmer skin tones, while silver usually suits cooler skin tones. This two-tone combination makes this watch a great option for any skin tone, warm or cool.
As it is water resistant of up to 50 meters, this watch is ideal for everyday use and wear.
If you're looking to purchase any of these watches, you can get them from their official brand websites, as well as shops including H. Samuel, John Lewis and House of Fraser.