Today, with the help of technology and the influence of fashion, frames evolved into many different styles and features that suit the person's interest, comfort and personality. It may seem to complicate the frame itself, but the truth is, this innovation that's taking place is helping people who wear eyeglasses find the most appropriate type of frame for them.
Just like clothing, there are some key considerations in choosing frames the suit specifically to every person. We have enlisted six of these key considerations in choosing frames for your glasses as your guide to a better you.
Here are some of the things that you might consider:
1. Cost
How much will it cost you? Some advisers may not consider this as a critical consideration, but for those who have a limited budget for eyeglasses, this is one of the things to consider. Expensive frames don't guarantee that these will last longer than less expensive frames. Most of the expensive frames are valued high price due to its popularity or the value-added cost of marketing it entails to make them sell. Nevertheless, costly frames are also far better as long as you don't compromise your necessities of buying an expensive one. If you want discounts, check out glasses at firmoo.
2. Lifestyle
Lifestyle refers to your daily routine or activities as wearing eyeglasses could be a mess at a given circumstance. You may ask the store to what frames are available that fits your activities well.
It can also be prevented by choosing the appropriate frames that suit your lifestyle:
For those who engage in outdoor activities, don't use frames that easily loose and are sensitive to strong movements of the face.
For those people who consider eyeglasses as part of their daily life, it's better to use rubber-based frames or frames manufactured with light material.
Metal frames can be irritating and make you feel uneasy when used the whole day.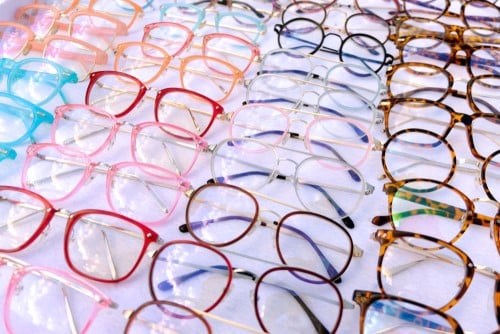 3. Comfort
Are you wearing your glasses to make your vision at ease or are you wearing it because of how cool it looks to you? No matter how pretty or handsome you become when wearing your glasses as long as you're comfortable with them, that's all that matters. Make sure that your frames fit you well, and it doesn't bother you. Just remember, comfort should come first over style.
4. Face Shape
The size of your frame should be in proportion with the size of your face. Small frames are for small faces and the same also applies with people with big faces they need larger frames.
There are four common types of face shapes: the square; round; oval; and heart or diamond. Here's a guide when choosing a frame based on the size of your face:
For people with a square face shape, it's recommended to use rounded frames to give a softer vibe on your face.
Rounded face individuals are more suited to wider frames with a rectangular curve.
For people with an oval shape face, a rigid top curve and smooth bottom curve is ideal for them.
For people with a heart or diamond shaped face, they look lovely with softer top curve frames with a rectangular bottom curve.
5. Skin Tone
While the shape of your face is to help you choose the frame that flatters your features, your skin color enables you to select the best frame color. Here are things you can consider regarding your skin tone:
For people with lighter skin tones, it's more appealing for someone to use a lighter color of frames.
For people with more of a tan skin, both light and dark colored frames look good on them. Darker-color people may look more pleasing with darker frames.
6. Personality
Last but not the least is to know if this type of frames reveals who you are. You have to consider your own persona to the kind of frame that you plan to wear because wearing eyeglasses gives a personal identity. It makes you noticeable in some way. Wearing eyeglasses can make you look smart, attractive or even mysterious. It's your choice. Make sure your glasses don't affect your real personality but to make it more evident.
Conclusion:
Consideration in choosing frames for your glasses vary from one person to another. It may look more complicated, but in reality, the variations in style, a material used, size and even its weight are intended to meet the utmost satisfaction of the specific wearer. The most important thing is that your frames and eyeglasses define the person you are and helps you in your everyday routine which also brings the best out of you.