Looks are important. We don't always like to admit it, but they are — because how we perceive ourselves can affect every aspect of our lives, from relationships and careers to self-esteem. So, as long as it keeps making men and women feel beautiful and empowered, there's one kind of business that will never go out of style — and that's a salon. But with so many hairdressers, beauticians, and nail technicians around, it's important to set your salon apart from the rest.
Before you start getting creative though, make sure you've got the necessities sorted. These include employing a solid team of professionals to work alongside you, securing your very own premises, and investing in a comprehensive insurance plan so that you can get your business up and running hitch-free. You'll need to cover "your liabilities, your staff, your stock and contents, your glass, your loss of profits and stock in transit", according to specialists from Salon Gold.
Once you've got the basics in order, you can work to make your salon a cut above the rest. Let's talk about three ways that you can set up shop and open your very own one-of-a-kind salon.
1. Curate a unique salon design
Aesthetics are everything — and now that you've got your foundations sorted, you can get to work designing a unique experience for your clientele. Nobody will want to sit for hours in the chair of a run-of-the-mill salon that's devoid of any personality, so strap on your paint overalls and get to work.
Colour psychology is a vital consideration, so say marketing specialists at Texas Creative. Traditionally, pink is the color associated with cosmetics and women's products, the agency explains, for its connotations of youthfulness, femininity, and romance. With that in mind, why not turn your premises into a full-tilt bubblegum pink fantasy? Or, alternatively, corner the market of sophisticated city slickers and decorate exclusively with everything plush, using materials like velvet and quartz.
Regardless of what you do, the point is to create a defined, memorable identity for your salon, generating intrigue and enticing new customers. There are plenty of places to find inspiration, from TV and film to Pinterest and the natural world. Salons Direct runs a monthly 'Salon Design of the Month' blog that showcases some of the country's most unique salons and decor choices. To follow in their footsteps, try to experiment with the lighting, architecture, furniture, and accessorizing of your space.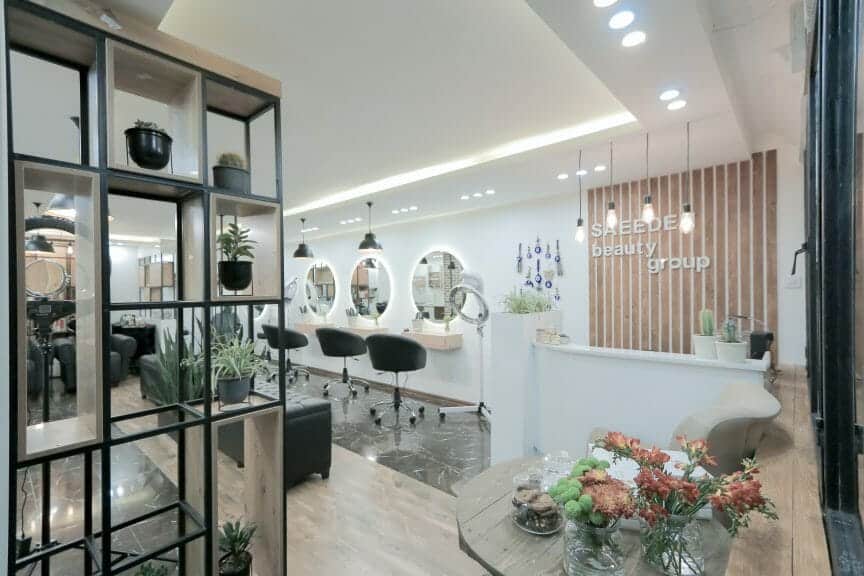 2. Provide a memorable experience
Once you're attracting attention, you'll have started a buzz about the trendiest new salon in town. Next, you should strike while the iron is hot and come prepared with a totally distinct experience for prospective customers.
Although you'll no doubt want to build up your customer base by offering core salon services, adding a couple of more niche treatments to the mix that can't be found nearby will help to establish your salon as unique. Consider up-and-coming techniques such as facial LED light therapy, which has been shown to treat acne, reduce inflammation, and even offer anti-aging benefits, according to Healthline.
You should also provide top-notch customer service to encourage repeat business and referrals. Greeting each client with a happy face and offering to take their coat is just a part of the package — nowadays, innovative salons are providing drinks, snacks, and entertainment to keep their customers occupied. Take Stag in Birmingham, for example, a barber shop that serves beverages and puts on DJ sets during the day, marketing itself as a destination for "a business meeting, hangout space, place to party or just to relax after work."
3. Tap into future trends
There are plenty of rising market trends that you can adopt before they go mainstream. For example, you might consider using environmentally friendly products to do good for the planet and cater to the trend of green consumerism sweeping the UK. To appeal to this burgeoning market, swap out your polluting aerosols and non-recyclable products in exchange for eco-friendly supplies — giving your salon the chance to recycle up to 95% of its waste.
There are also trends in tech that you can capitalize on to keep your customers coming back for more. For instance, some small businesses are starting to go digital with their booking and loyalty systems, using online platforms such as Glue and Smile.io. Tools like these can automatically record each of your client's visits, send regular reminders, and allow them to easily book their next appointment. This way, your customers won't have to lift a manicured finger to get the treatments they want.
Alternatively, you may wish to offer free treatments in exchange for social media posts about your business. Bloggers, vloggers and micro-influencers can plug your business and directly advertise your unique services to their highly engaged following, and you can reap the rewards of this with new customers.
Once you've built up a regular client base and made a name for your brand, you'll have successfully started up a one-of-a-kind salon that markets itself. We wish you the best of luck!